Pediatric Acute Care
Our 8-bed licensed and California Children's Services approved Pediatric Unit employs a multidisciplinary staff specifically trained in the medical, emotional and developmental needs of children. The Pediatric department provides family- centered care which invites parent participation and decision making in the care of their children. The Pediatric Unit provides specialized equipment in a range of sizes and special technology and monitoring systems designed specifically for children. Pediatric physicians are sensitive to the special needs of children.
The nursing staff is specially trained to care for children, and the nurses have chosen to work in the Pediatric Unit because they want to help sick and injured children regain their health. In addition, the healthcare team is certified in Pediatric Advanced Life Support (PALS).
Visiting Hours: 11:00 am - 8:00 pm
Our Visitation Policy
Parents may visit 24/7. One parent is allowed to stay over night with their child.
Sibling visitation is from 5:00 pm to 8:00 pm.
No one under the age of 16 is permitted to visit.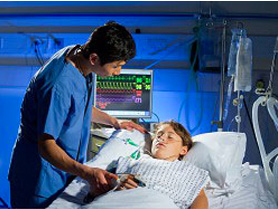 Specially Equipped for Children
P E D S A C U T E C A R E
L O C A T I O N :
SJGH - Towers Building, 4th Floor
Questions: Please contact us through the Hospital's main phone number:
(209) 468-6000