Medical-Surgical Units
The Medical-Surgical Telemetry Unit at San Joaquin General Hospital (SJGH) provides acute nursing care to a variety of patients, including but not limited to surgical, orthopedic, medical and cardiac patients. The Medical-Surgical Team is characterized by a warm, friendly and caring atmosphere that focuses on individual attention for all patients.
The team works closely with our Dietary, Physical Therapy, Occupational Therapy, Speech Therapy and Social Service Departments to provide complete interdisciplinary health care. Staff also specializes in chemotherapy infusion for our cancer patients, working closely with our Oncology Department.
The Medical-Surgical Unit includes a negative pressure room for special precaution patients and a central nursing station and internet access.
The Medical-Surgery Units have two locations. A 25 bed unit provides services on the third floor of the main hospital; this unit is termed 3B. An additional 21 bed unit for the Medical-Surgical services are provided on the third floor of the brick, Towers building; this unit is called T3.
Visiting Hours: 11:00 am - 8:00 pm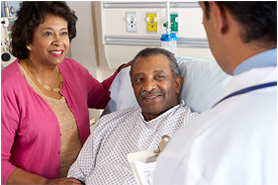 Our Experienced Team is at Your Service
U N I T L O C A T I O N S :
SJGH - Main Hospital, 3rd Floor 3B: (209) 468-6420
SJGH - Towers Building, 3rd Floor T3: (209) 468-6340
Patients on Medical-Surgical Units can be reached by calling the units; staff will transfer your calls to the patient rooms.