Neonatal Intensive Care Unit (NICU)
San Joaquin General Hospital's state-of-the-art NICU was the first California Children's Services approved Community Level III NICU in San Joaquin County. Our 25-bed licensed and certified Level III Neonatal Intensive Care Unit is fully staffed with a team of professional specialists. Our NICU team is also certified in Neonatal Resuscitation Program (NRP).
Specially trained Physicians & Nurses on Staff:

Newborn Cardiology Specialists on Staff
Clinical RN Specialists on-site 24/7
Infant Respiratory & Pulmonologist Specialists

Social Workers & Family Follow-Up Support Programs
Kangaroo Care" & Special Infant-Mother Programs
Strong Success Record From its Founding in 1983
Donor Milk Bank
Our Special Environment - By combining technology and old fashioned caring, babies have the resources to thrive. In addition to their physical issues, we also focus on babies' developmental needs with specific programs that help newborns gain weight faster and go home sooner.
Our Family Centered Approach -- allows parents to overcome the emotional strain encountered by the birth of a sick infant. We have two family rooms for parents who may wish to stay over night in the NICU. Families will benefit from the open visiting policy and the emphasis on open communication with physicians and nurses. You, as the parents, are considered a very important member of this specialized team. The staff of the NICU supports our families and provides them with much needed informational resources and community services.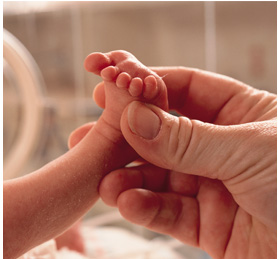 Our Goal is to Send Babies Home to Their Families
N I C U L O C A T I O N :
SJGH - Towers Building, 4th Floor
If you have questions about regarding the NICU, do not hesitate to call:
(209) 468-6000