Intensive Care Unit (ICU)
When intensive care is essential for patients with complex medical or surgical concerns, the Intensive Care Unit (ICU) at San Joaquin General Hospital has the staff, technology and resources to care for your needs. The 16-bed ICU provides care for the critically ill patients on a 24 hour basis. Our nurse-patient staffing ratio of 1:2 allows these nurses to focus fully on the needs of our patients.
The ICU is staffed by a team of professionals. This ICU team consists of board certified physicians, residents, experienced critical care nurses, respiratory and physical therapists, social workers, pharmacists and utilization review nurses.
Visiting Hours: 10:00 am – 8:00 pm
Unless otherwise indicated by attending physician.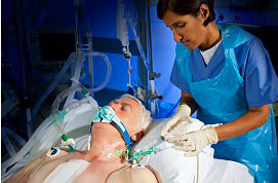 In Time of Need,
You Can Depend on US
I C U L O C A T I O N :
SJGH - Main Hospital, 2nd Floor
If you have questions regarding the ICU, please do not hesitate to contact us. (209) 468-6000