San Joaquin General Hospital Advances to a Level II Trauma Center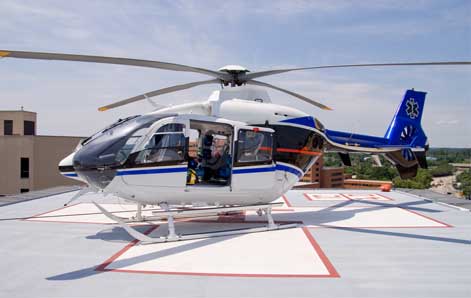 San Joaquin General Hospital's Trauma Center has been upgraded from a Level III Trauma Center to a level II designation. A Level II Trauma Center is one that can deliver and initiate definitive care for all injured patients. A Level II Trauma Center is one where a hospital demonstrates the ability to provide basic assessment, resuscitation, surgery, intensive care and stabilization of injured patients.
The advancement to Level II designates a hospital's exemplary trauma care and its proven ability to provide 24-hour immediate coverage by general surgeons, as well as coverage by the specialties of orthopedic surgery, neurosurgery, anesthesiology, emergency medicine, radiology and critical care.
The designation of a Level II Trauma Center is awarded by both the San Joaquin County Emergency Medical Services Agency and the American College of Surgeons (ACS). The accreditation from the ACS will come later in the Summer. This achievement recognizes the trauma center's dedication to providing optimal care for critically injured patients within San Joaquin County. Trauma Centers not only provide emergency hospital resources necessary for trauma care, but also the entire spectrum of care to address the needs of all injured patients. This spectrum encompasses the Hospital's pre-hospital phase through the rehabilitation process.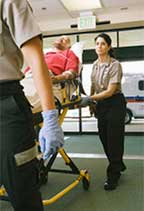 The benefit of having a Level II Trauma Center in San Joaquin County means that local residents now have the security of having immediate and accredited emergency care for all life threatening injuries. Trauma Centers provide a tremendous asset to local communities.
San Joaquin General began a Level III Trauma Center in 2014 and through the years we have added the necessary staff & technologies to be recognized as a regional Level II Trauma Center.
Quail Lakes Baptist Church of Stockton Brings Ice Cream Trucks to SJGH to Thank "Frontline Heroes"
San Joaquin General Hospital Foundation Receives a $350,000 Memorial Gift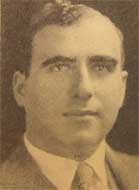 In Memory of
Samuel Hanson MD.
San Joaquin General Hospital's Foundation has received a gift of $350,000 in remembrance of the work of the late Dr. Samuel Hanson and his family. Dr. Hanson was a practicing OB/Gyn physician at San Joaquín General for many years. The gift was from the estate of Dr. Hanson's daughter; Deborah Hanson Murphy in recognition of her father and the humanitarian efforts of SJGH. Ms. Murphy had fond memories of visiting her father at the Hospital and witnessing the caring medical staff. The Deborah Hanson Murphy gift represents the largest financial contribution to the Foundation in its history.
Deborah Hanson Murphy was born at the Hospital in Stockton in 1931. She earned her Bachelor of Arts degree from Stanford University in 1953. She studied at the Art Students League in New York from 1957-1958 and after a brief career in journalism, lived in France and Italy from 1959-1967. After a brief return to live and work in Washington, D.C., where she was a docent at the National Gallery, she returned to France where she lived in the Montmartre neighborhood of Paris from 1986 until her death.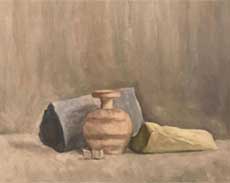 Still Life Painting by: Deborah Hanson Murphy
Her work has been shown in various galleries and exhibitions in Paris and French provinces, New York and LA. Her works are found in the permanent collections of the Louvre and the Boston Museum of Fine Arts.
Ms. Hanson Murphy has additionally donated six of her paintings to the Hospital and they will hang in both the maternity and the surgical wings.


San Joaquin General Hospital Staff Celebrate Breast Cancer Awareness Jean Day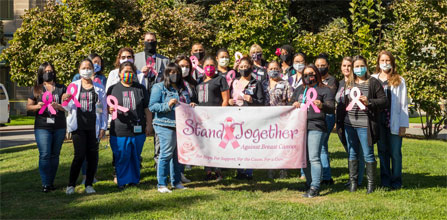 Both Hospital and SJ County Clinics members join forces to promote breast cancer community awareness during October. Breast cancer awareness is an annual event celebrated every October and promotes women's health activities throughout the communities of SJ County.


SJGH Adresses the Challenges of COVID-19
At San Joaquin General Hospital, the safety and health of our patients and staff is our top priority. We have highly trained professionals that work closely follow the guidelines of the Centers for Disease Control and Prevention (CDC), California Department of Public Health and our local; public health department to ensure the safety of our community.


County-Wide COVID-19 Testing
San Joaquin General Hospital and County Clinics are participating in a county-wide COVID-19 testing program in the effort to control and minimize the pandemic's effect on local businesses and activities.
For more information on testing site dates and locations visit:
http://www.sjready.org/events/covid19/testing.html