San Joaquin General Hospital Staff Celebrate Breast Cancer Awareness Jean Day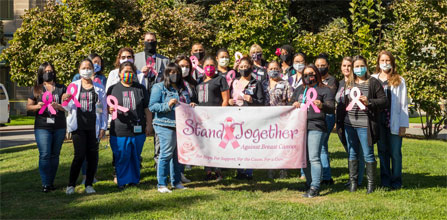 Both Hospital and SJ County Clinics members join forces to promote breast cancer community awareness during October. Breast cancer awareness is an annual event celebrated every October and promotes women's health activities throughout the communities of SJ County.


County Leaders Celebrate New Wing Grand Opening

San Joaquin General Hospital did a ribbon cutting Grand Opening December 9th of its new 34,000 square foot acute care wing. The new state-of-the-art two story acute care building connects to the South of the main entrance to the hospital. The event was attended by the San Joaquin County Supervisors, San Joaquin County's Administrator and representatives from the offices of US Congressman Jerry McNerney and State Assemblywoman Susan Eggman. Local government and civic leaders were also in attendance.
The hospital's new wing addition adds another 45 hospital beds with the first floor featuring a fully modernized 25 bed Neonatal intensive care unit and the second floor will contain 20 upgraded medical-surgical-telemetry beds. The new wing will offer accommodations to patients in fully modern and furnished private rooms. The new facility will enhance the Hospital's ability to set higher than industry quality care standards and offer a new higher level of patient privacy. The new addition will also feature upgraded security, a fully modern nurse call communication system with the industry's highest level of patient monitoring technology. Attractive art decorates the rooms, hallways and common areas.
The new Acute Care Wing addition increases San Joaquin General Hospital's ability to provide the highest level of medical care to local San Joaquin County residents.
SJGH Adresses the Challenges of COVID-19
At San Joaquin General Hospital, the safety and health of our patients and staff is our top priority. We have highly trained professionals that work closely follow the guidelines of the Centers for Disease Control and Prevention (CDC), California Department of Public Health and our local; public health department to ensure the safety of our community.


County-Wide COVID-19 Testing
San Joaquin General Hospital and County Clinics are participating in a county-wide COVID-19 testing program in the effort to control and minimize the pandemic's effect on local businesses and activities.
For more information on testing site dates and locations visit:
http://www.sjready.org/events/covid19/testing.html
For further information on COVID-19 and our local community,
please refer to the links below:
Local COVID-19 News and Updates 
http://www.sjcphs.org
State of California Dept. of Health
https://www.cdph.ca.gov/Programs/CID/DCDC/
Pages/Immunization/nCOV2019.aspx
Travel Precautions
https://www.cdc.gov/coronavirus/2019-ncov/
travelers/index.html
Thanking Our COVID-19
"Frontline Heroes"
San Joaquin General Hospital would like to thank Letters of Joy, based in Elk Grove-Natomas, for providing the above featured "Hero Acknowlegement" signage presently in front of the hospital's main entrance. San Joaquin General Hospital and San Joaquin County Clinics appreciates the community's efforts in coming together and ensuring the safety of our neighbors and our health care workers.
2019 Performance Excellence Award Winner
San Joaquin General Hospital has won the California Public Hospital Association's (CAPH) prestigious 2019 Quality Leaders award for Improving Heart Failure (HF) Outcomes at San Joaquin General Hospital. The Statewide award highlights the Hospital's Primary Medicine Department's Multidisciplinary Team-Based Approach in the CAPH Performance Excellence category.
The redesigned multidisciplinary CHF Clinic has reduced HF Hospital and emergency visits. San Joaquin General Hospital's team approach to HF management follows the Hospital's mission of providing the optimal, compassionate care to the residents of San Joaquin County.
Moshen Saadat, DO, FACP Is Chair of the Hospital's Internal Medicine Department
Please allow time for this video to load - It will begin playing automatically. This Virtual Tour is presented using HTML 5 - Please ensure you have a modern / up-to-date browser.
Mountain House High School Students Produce Face Shields For San Joaquin General Hospital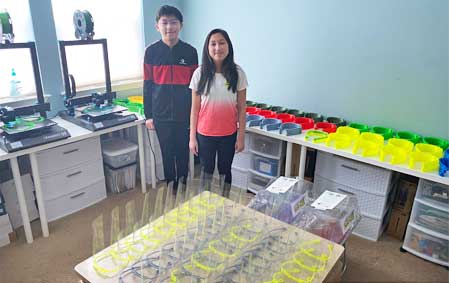 Mountain House High School students Jacqueline and Jordan Prawira have produced and donated over 750 face shields to San Joaquin General Hospital and San Joaquin County Clinics. Their goal is to produce and donate 1,000 shields by the end of the Summer.
Their assembly process begins in the revamped science room at Mountain House High school. After the 3D printed face shields are produced, they are mounted to the durable frames to create the finished visor. The completed face shields are then sterilized and packaged in groups of 10-12 before scheduling their delivery. The Prawiras have also produced instructional videos, accessible on the packages of face shields, which guide the face shield user through properly wearing the shields, as well as, a special "thank you" video to healthcare workers providing COVID-19 patient care. Jacqueline and Jordan deliver the 3D printed face shields weekly to the Hospital.
Quail Lakes Baptist Church of Stockton Brings Ice Cream Trucks to SJGH to Thank "Frontline Heroes"