SJGH News & Events
Research Day Brings World Medical Leaders to the Campus of SJ General Hospital
Research Day allows world renowned medical experts the opportunity to share their expertise and medical findings with the Hospital's medical staff as well as the entire San Joaquin County medical community. The event is hosted by Dinesh Vyas, MD, Director of the Hospital's General Surgery Residency Program in conjunction with Sheela Kapre, MD, SJGH Chief Medical Officer.
In 2019, special guest speaker was renowned chief surgeon and distinguished professor at Baylor University in Houston Dr. Kenneth Mattox, commonly known as the "father of modern trauma surgery". Also from Houston's Baylor University, speaking on advances in aortic disease and heart surgery, was Vice Chair of Research DeBakey Dept of Surgery at Baylor University- Dr. Anthony LeMaire. From the UC San Diego Medical Center, Surgeon-in-Chief, Dr. Bryan Clary discussed surgical advances of the liver, pancreas, gallbladder and bile duct. Dr. A. Hari Reddi, Vice Chair of Orthopedic Surgery at UC Davis Medical Center brought the most recent innovations in bone regeneration as well as the history of the Nobel Peace Prize for Medicine.
Research Day 2020, date TBD, will once again feature nationally recognized medical leaders presenting breakthrough medical advances to the local medical community. For more information and RSVP, please contact Jessica Kolatch at (209) 468-6622.
For Mor Information: Download the 2019 Research Day Flyer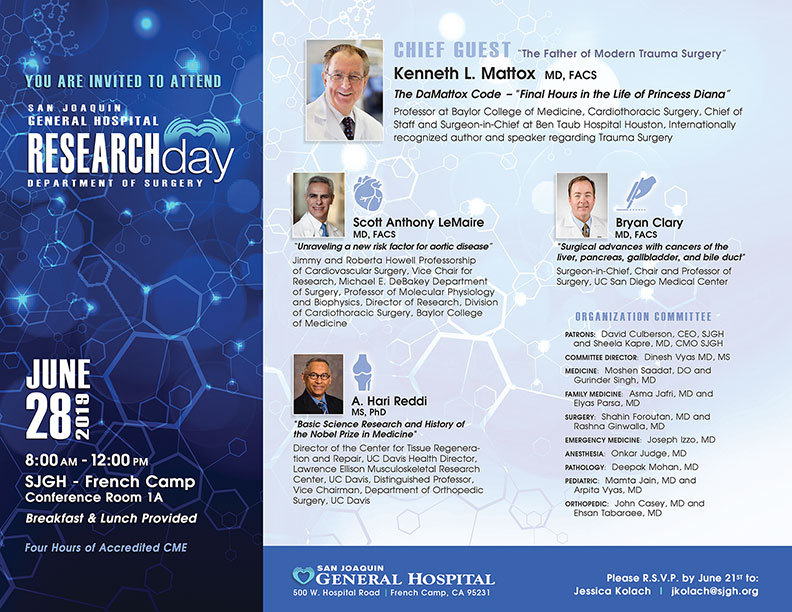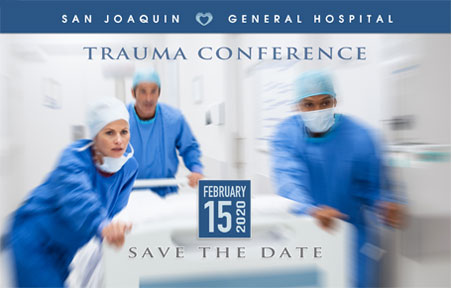 SJGH Trauma Conference
Saturday | February 15 | 2020 – 7:30 am - 4:30 pm
SJGH - 500 W. Hospital Road, French Camp, CA 95231
Welcoming All: Trauma Surgeons, Physicians, Travel & ED Nurses, Parametics, EMTs and EMS Agencies.
For More Information or Reservations: Please call Viola Cortez,(209) 468-7522 or by email to vcortez@sjgh.org

Fourth Annual Community Health Fair
Held: Saturday | October 26 | 2019
SJ County Clinics and SJ General Hospital, in conjunction with Binational Health Week, are holding their 4th Annual Community Wellness Event and Health Fair in late October. The event is being held at the San Joaquin County Clinics' main clinic parking lot on the campus of SJ General Hospital in French Camp. This is a yearly event SJC Hospital and County Clinics hold on behalf of the general health of SJ County residents. Spanish and other language speaking medical staff and professionals provide communication with the many diversified community members. Included in our Community Wellness Event are low-income families, "at risk" children, youth, adults, and uninsured individuals. The goal is to help educate healthy living and provide health care accessibility for the entire County.