SJGH News & Events
Cancer Research Forum
SJGH welcomed local physicians and surgeons attending its first annual Research Day on June 27th 2018 at the Hospital in French Camp. The event featured four nationally respected guest speakers informing the local medical community on innovations and current research into early cancer detection and cancer treatment.
The event was hosted by Dinesh Vyas, MD, Director of the General Surgery Residency Program, San Joaquin General Hospital in conjunction with Sheela Kapre, MD, SJGH Chief Medical Officer.
Speaking on intestinal cancer was Anthony Senagore, MD, MS, MBA, a nationally acclaimed colorectal surgeon. Speaking on cancer cell biology and genetics was Lakshni Shankar Chaturvedi Ph.D. Both speakers outlined cutting edge surgical technology applied to cancer treatment and detection. Nationally respected medical educators Phil Mack, Ph.D. and physician educator Ishwalal Jiatal, MD, Ph.D. both spoke on cell biology, cancer cell technology, biopsy, detection and advanced treatment of common colorectal cancer and lung cancer, as well as medical law.
Research Day 2019 will be held on June 28th, 2019, and will feature nationally recognized medical leaders presenting breakthrough medical advances to the local community.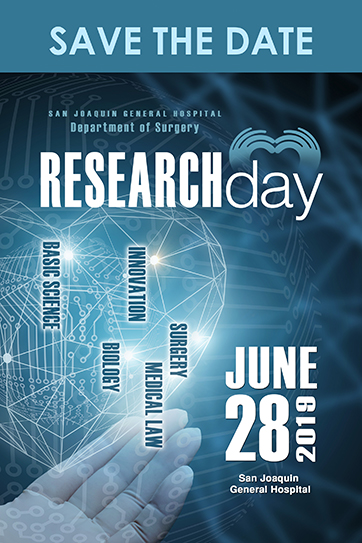 Third Annual Community Health Fair
Was Held: Saturday | October 20 | 2018
SJ County Clinics and SJ General Hospital held their 3RD Annual Community Health Fair. The event was held at the San Joaquin County Clinics' main clinic parking lot on the campus of SJ General Hospital in French Camp. This is a yearly event Sj Hospital and County Clinics hold on behalf of the general health of SJ County residents. Spanish and other language speaking medical staff and professionals provided communication with the many diversified community members in our County.
San Joaquin County Clinics partnered with nearby nursing schools to conduct free health screenings, provider reviews of findings, and provide free flu shots (while supply last). The SJCC Family Medicine and Healthy Beginnings Clinics were also available to see patients who needed to see a physician provider the same-day directly from the screening areas. Car Seat Checks were also offered by trained San Joaquin General technicians.
The general population attending was low-income families, "at risk" children, youth, adults, and uninsured individuals. SJ County Clinic's participation is a key factor among other community health fairs in the County during October. The goal is to help educate healthy living and provide health care accessibility for the entire County.
SJGH & SJCC Staff Participates in the 2018 AHA Heart & Stroke Walk
SJGH & SJCC made a strong showing in the AHA walk with 103 participating staff members, family and friends. The SJGH team members also made a significant contribution coming in at the sixth top fundraiser in SJ County generating $4,958 in donations to this worthwhile cause. The 2018 dollars raised was nearly double the amount generated at the same event the previous year. (2018 SJGH Team Pictured Above)
Thank You...You Make Us Proud!