Hospital Administration
Message from our CEO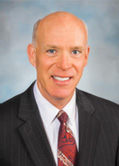 David Culberson
Chief Executive Officer
"We are proud of the dedicated physicians, nurses and clinical staff of professionals that choose to work at San Joaquin General Hospital. We are a designated trauma and stroke center with physicians and surgeons on staff 24 hours a day, seven days of the week. Our Hospital is equipped with state-of-the-art medical technology which includes tele-medicine communication with the highest rated medical facilities in the Country. Most important to us, is the high level of personal, one-on-one care our staff delivers to the residents of Central California. We are happy to report that San Joaquin General Hospital was recently recognized by The Joint Commission as one of the top 20% of hospitals nationally in quality patient care. We are also a teaching hospital and our medical staff has trained some of the most prominent physicians in Northern California. We provide outpatient services with fully equipped medical primary care clinics both on site and in satellite locations in the San Joaquin County.
We encourage you and your family to get to know us. We want to be your family's leading health care provider. We are here for you."
David Culberson, C.E.O.